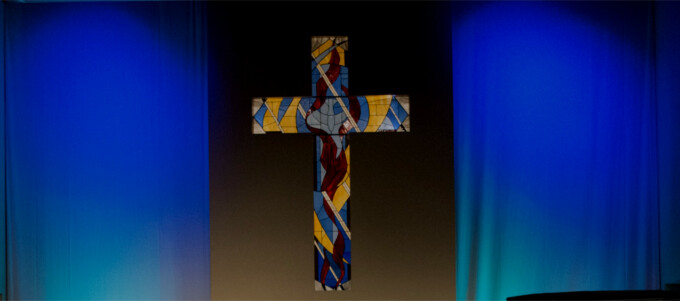 Church Family,
It's been an exciting time of ministry at Oakhill, and I pray that this Fall season has found you refreshed and excited to see God continue to move in our lives and in our church! I want to thank everyone who took the time to come out to our Family Night of Worship last month. We weren't able to have the event outside due to weather, but I am thankful that the rain didn't keep us down, and we were still able to enjoy fellowship and worship together inside! I especially want to thank Darrell Ommart and Doughboy BBQ, as well as Lolly's Pops for providing all the food and drink. I am excited to continue this event with our church family in the future!

This month, I want to challenge us with a question: How do we handle distractions in worship? I don't mean distractions as in the person behind you singing off key, or the person next to you constantly checking their cellphone during worship. By distractions, I mean the stress, the thoughts, and the outside situations that we bring into worship with us. Maybe you had a bad week. Maybe your child smarted off to you right as you walked into church and your wondering how you're going to handle the situation once you get home. The stressful situations that we bring into worship are endless. And they can be distractions. So how do we handle them? A lot of times, we want to forget them. We want to do our best to completely put them out of our minds so that we can solely focus on God. But let's be honest, we're human, and that's hard to do. And if I'm honest, even as a worship leader, sometimes it's hard to tune out stress in my life to lead worship on Sunday morning.
So maybe running from these distractions is hard to do. So why run from them? Why forget about them? Let me encourage you to not forget about these distractions, but to bring them to God in worship. Offer them to God. After all, God is all things to us. He is the ultimate healer. He is the ultimate peace-maker. He's the ultimate wisdom-giver. He desires to be close to us, as we come close to Him. So, in worship, don't take your stress and your distractions further from God. Bring them close. Bring your heart, and all the baggage that comes with it. Lean in. There's nothing quite like the presence of God. And in the presence of God, things change. Richard Foster said, "If we don't leave worship looking more like Jesus, then is has not been true worship. To stand before the Holy One is to change." You are loved by Jesus. The details of your life are in the hands of Jesus. And He is worthy of our worship. I'll see you on Sunday! I can't wait to worship together.