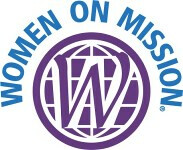 Reaching North America for Christ
By Laura Harper

Through the North American Mission emphasis, we can learn about, pray for, and support missions. The week of prayer for North American Missions (March 3 - 10) helps church members understand what missionaries in the United States, Canada, and their territories do and how to pray for them. The task of reaching North America for Christ is huge, but as God uses us, we can see results. Let's trust him and praise him for the results.
On Wednesday, March 6th a North American Mission study will be presented at noon in the fellowship hall following our meal. The Annie Armstrong Easter offering gives our church a chance to support the work of more than 5,600 missionaries as they plant churches, reach out to college students, and so much more.

Women on Mission will meet Monday, March 11th at 6:00 pm at the home of Barbara Burns. All our ladies are invited to join us for study, prayer, and fellowship.