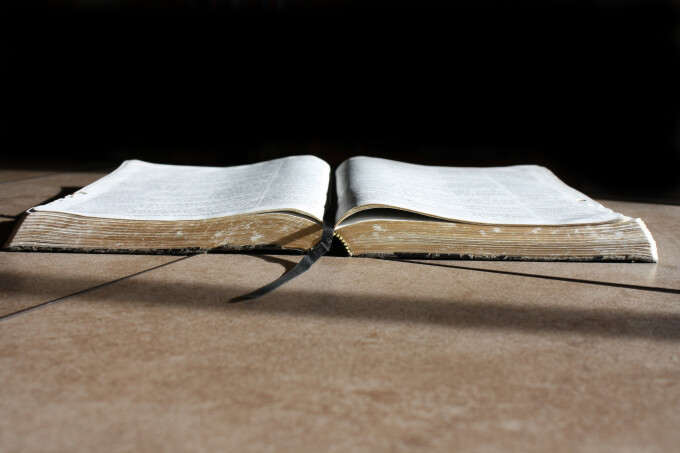 "Steps to Strengthen Prayer" by Bonnie McKernan

1. Set prayer apart. The more we pray, the more we want to pray. To do this, you need to build it into the rhythm of your day any way you can: set alarms, leave notes, put it in your day planner. Prayer is a practice that requires discipline and perseverance, and we should own the cost. Prayer is the greatest act of our day, and we must fight for it. And not just in times of need. It matters how we train and prepare for the battle.

2. Learn to withdraw. Pull away from distractions — the phone, the computer, the TV, the constant noise of modern life — and find a way to separate yourself so you can be and feel "shut in with God." Your car on lunch break, a quiet corner in the office, a closet in between meals or feedings or naptimes, or simply the quiet of your heart if that's all you can muster.

3. Have a posture of prayer. Do what you need to help you focus on what it is that you're doing. Kneel, stand, close your eyes, look to the heavens — when your body is focused, it's often easier for your soul to follow. If able, pray out loud. I've found that just softly whispering during my private prayer time is quiet enough that it doesn't inhibit the flow of my praying, but loud enough that it keeps my mind from wandering.

4. Pray fervently. Praying should be active. We cannot truly come into contact with God and not be a different person, at least in some small degree, by the time we say, "Amen." Struggle in prayer, wrestle with it, and let the Spirit move. Answers to prayer are a blessing, but prayer in and of itself is meant to be a blessing.

5. Pray specifically. Vagueness can be the death of prayer. Not that we can never be general, just not at the expense of praising God's specific attributes, confessing specific sins, or thanking him and asking him for specific things. We must learn to pray specifically and boldly due to the status we have through Christ, while simultaneously being completely submissive to God's will. Bold and expectant faith coupled with humble submission is a powerful thing.

6. Pray for and with others. Prayer is meant to knit together the children of God, oftentimes, people we have never even met. We share a Father, we are family, and we should bear each other's burdens in prayer. We become invested in each other's struggles and triumphs. We start to care more about the people we pray for and less about ourselves. What a beautiful thing to come before our Father of one accord with the same appeals out of love and care for each other. Prayer binds the church together.
Recommended Resource— The Disciple-Making Parent by Chap Bettis
Parenting in today's culture can be exhausting, scary, difficult, challenging and… well, pick your own adjective. Moreover, your desire to raise children as a Christian parent in accordance with the Bible's truths amplifies those adjectives to an entirely different level. You bring home that beautiful little baby made in the image of God from the hospital, and you look at your spouse and say, "Now what do we do?" That question never goes away for the Christian parent. Your baby grows to become a toddler, a child, a pre-teen and a teenager, and as your baby grows in each of those stages of life, you look at your husband or your wife again to say, "Now what do we do?"

The Disciple-Making Parent: A Comprehensive Guidebook for Raising Your Children to Love and Follow Jesus Christ seeks to help us answer that kind of question. This book ranks as a top contender for a book that every parent should read as they seek to honor Christ by parenting their children faithfully. You will read this book and be convicted that you need to do better at making a disciple of your child. That's a good thing. We all need to be convicted that we should take our God-given task more seriously and faithfully. With The Disciple-Making Parent, you will be better equipped to answer the question, "Now what do we do?"