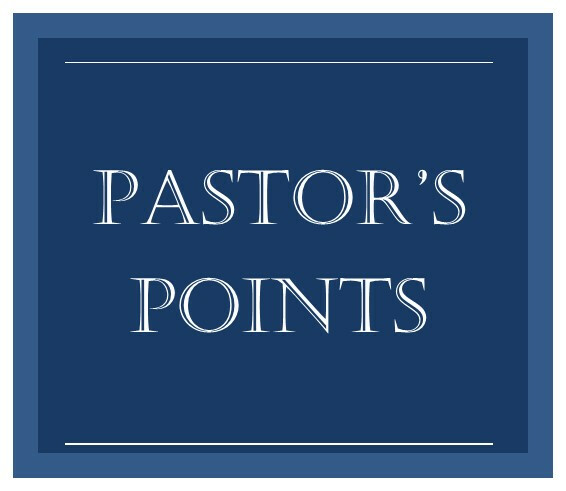 Dear Church Family,

I just want to begin by saying God is so good!! There are so many things that we have to be thankful for as a church and I just want to take a moment to give God praise.

The Acts Sermon Series
Of all of the series of sermons that I have shared throughout the years, I believe I have had more feedback and testimonies from this series of messages than almost any others. It has taken us some time to make our way through the book of Acts, but it has been worth it. Along the way we took some breaks to speak from other portions of scripture about important topics that related specifically to our church family, but I wanted to make sure that we made it through the whole book of Acts because of the richness of the content, and the recurring themes which are important to interact with so we can understand their importance. I pray that we will remember that we are EMPOWERED to be witnesses, we are GUIDED to complete the task of seeing others CONVERTED, and that as we walk in faithfulness, we will be willing to be PERSECUTED for the cause of Christ if it is ever required of us.

The New Student Ministry Space
I thank God for this new ministry space that is going to be used to help disciple the students of our church. Our church family has been faithful to give sacrificially to allow us to develop this space. It is a beautiful space perfect for our students as well as for our church family to use for the glory of God! We also had faithful volunteers from our church who gave countless hours of service to physically work on the room. We have seen multiple generations give to, work on, and be invested in by the work taking place in this new ministry space. God is so good to us!! We are ready to receive our new Student Pastor as God brings him to us in His timing. Keep praying for our search for him! God is so good to us!

The New Children's Ministry Space
We are in the early stages of developing this space as we renovate what used to be our student ministry room, and former sanctuary as well. This space is going to be a blessing to children as it will provide a dedicated space for large group meetings and children's worship. This space will be outfitted in such a way that it will be able to host different parties and events as well. Be listening for ways to volunteer to work on this space as well as to financially give to make this a reality. God is so good to us!

North Campus Update
As you may know we have a brand new roof on our gym at North Campus which is a huge blessing! We also have plans coming together to take our next steps of renovation on the North Campus as we prioritize the many needs that these buildings have. Ultimately these buildings are going to be nice, functioning facilities that will allow us to continue to reach out and grow! And while that work is coming we still have the blessing of using the beautiful acreage up there for outdoor ministry activities like our community wide egg hunt, church picnic, summer camp, mother's day out, and more events coming in the fall. God is so good to us!! There is so much more that could be said, from our steady stream of guests on Sundays, to our full class of 20 people coming to our Discover Oakhill to learn about church membership. We have had a very successful year of UPWARD basketball and cheer this year as well. We have 20 children that we are following up with who either trusted in Christ as Savior or have questions about doing so. God is so good to us!!

I am so excited for what God has for us in the remainder of this year and out into the years to come. Let's make it our aim and goal to walk in faithfulness to God, and in love with one another as we live for God's glory!!

I love you and I love being your pastor!!!