Women On Mission - October 2021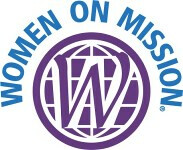 It is easy to be concerned, confused, and overwhelmed by happenings in the world around us. Poverty, violent crime, a pandemic that seems
never ending, politics, world events, increasing inflation, devastating weather events, racism, disrespect for law enforcement, and the list goes on. As we look to God for strength and comfort, we can find consolation in many old hymns of the past. I recently found a song I had heard as a child and share the lyrics here. Look it up and hear the beautiful tune. Also Pastor Derek, could we sing this sometime?

Hold To God's Unchanging Hand

Time is filled with swift transition,
Naught of earth unmoved can stand,
Build your hopes on things eternal,
Hold onto God's unchanging hand.

Trust in Him who will not leave you,
Whatsoever years may bring,
If by earthly friends forsaken,
Still more closely to Him cling.
Covet not this world's vain riches,
That so rapidly decay,
Seek to gain the heavenly treasures,
They will never pass away.
When your journey is completed,
If to God you have been true,
Fair and bright the home in glory,
Your enraptured soul will view.
Refrain:
Hold to God's unchanging hand,
Hold to God's unchanging hand,
Build your hope on things eternal,
Hold to God's unchanging hand.
Jennie B. Wilson, Published 1906
Scripture: Psalm 89:13
ATTENTION OAKHILL - We have a goal of 900 boxes of macaroni and cheese for the Evansville Rescue Mission for the Gobbler Gathering Thanksgiving giveaway. GET READY! On Sunday, October 3rd we will begin collecting mac and cheese! The deadline is Sunday, November 14th.

Our World Hunger receipts to date are $527.85. We will have a special Hunger Offering on Sunday, October 10th to try to increase our giving for 2021. Women on Mission will meet Thursday, October 7th at 1:00 pm in the Grace classroom. Remaining meetings are November 4th and December 2nd. Each will be at 1:00 pm in the Grace classroom.