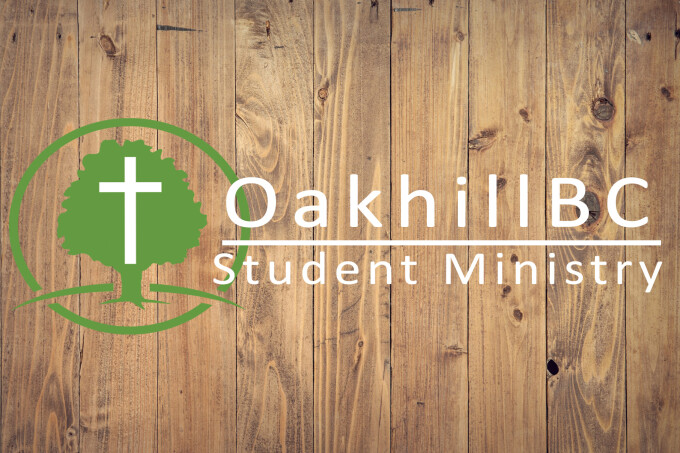 Dear Church Family,

Last month was my five year anniversary serving as the Student Pastor of Oakhill Baptist Church. It has been a wonderful five years! Since being called to serve here, Kayla and I have been working to connect with families, equip parents, and join efforts with them to disciple their students in the gospel. As the Lord saw fit to be gracious to us and bless us, we also became parents of two wonderful little boys. We are even expecting a third child this coming April! I have also had the privilege and honor of baptising a number of students and walking with them in the beginning stages of their faith. I love getting to preach the gospel to the next generation and help them have a love for God and His word. Explaining the gospel to people and helping them see it in the Old Testament is my passion. I get to do what I love every week! And being a part of this church is such a joy to me and my family!

Our youth group makes my job great too. We have some of the best students who really want to hear God's word and grow in it. Sometimes they need to be reminded that that is what they want the most. But they always prove to be hungry for the Truth. We currently have a Student Leader group that is made up of 18 high school students who have a desire to serve the Student Ministry by reaching out to new, younger, or disengaged students. They also do much of the setup and teardown for Sunday and Wednesday nights. And the whole goal is to teach them how to take ownership and serve in their church. It is a real delight to see students being the church and making an impact in other people's lives that they don't even know they are making yet. And our adult leaders are a mix of parents, older adults, and younger adults. That is what it needs to be so students are connected to all spectrums of life and Christian experience! Our adult leaders are making huge impacts on these
students just by teaching their Life Groups and playing games with them. It is in these connections and the accurate teaching and example of God's word that we drastically reduce the likelihood of the students walking away from the church later in life. I love being a part of that.

So basically the whole point of my article this month is just to say thank you. Thank you for having me and my family be a part of this church family. Thank you for being such a great church and always supporting your pastors. Thank you for loving God's word and not letting anything stand in the way of making the proclamation of the gospel the primary task. Thank you for loving my wife and kids well. Thank you for prioritizing the discipleship of the next generation. Thank you for loving the Lord and following His voice. And thank you for making my job awesome!