Student Ministry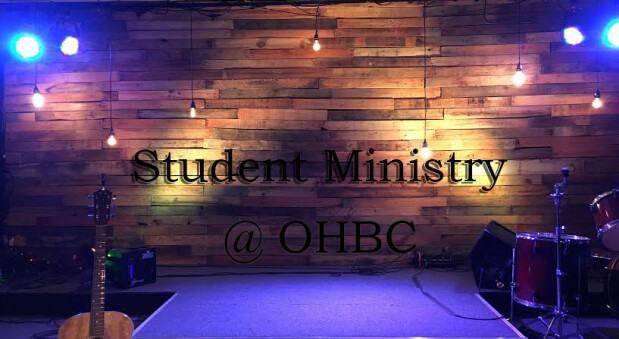 The Student Ministry at Oakhill Baptist Church is a place for every student to come, grow in their faith in Christ, and build lasting relationships with leaders and other students.
CHECK US OUT!
---
Important COVID-19 Information:
Student Ministry activities will look different during the current situation. Stay posted on our Facebook page for information.
For now, Student Gathering and Life Groups will continue at the same times via "Google Meet." Links and codes will be given through our Facebook page and via email. If you would like to be apart of a group, please email to ask for links and codes for a group.
STUDENT BIBLE STUDY
SUNDAY MORNINGS - 9:30am - 10:45am
LOCATION: STUDENT CENTER
Student Bible Study is focused on teaching the whole story of the Bible and applying it to students in their particular contexts. We do this by showing how the major stories of the Bible,beginning in Genesis and ending in Revelation, all point to Jesus Christ and His work on the cross.Then we connect that reality to our lives today. Student Bible Study is for all students in 6th – 12th grade. Our goal during this time is to worship and study God's Word together as a group.
---
Student Gathering
SUNDAY NIGHTS - 5:00pm – 7:00pm
LOCATION: STUDENT CENTER/GYM
Student Gathering is a time for students grades 6th-12th to gather, fellowship together, and focus on applying the gospel to their lives. This time will include worship through music and worship through a message from God's Word. We also like to play games and watch funny videos, but our focus will always be brought back to Christ.
This is a time where believers and unbelievers alike can see who Christ is, what He has done, and how that impacts their lives today. Our goal is for students to have a good time of fellowship, be immersed in the gospel, and then go out and share the gospel with their friends and family. This is a great time for Christians to hear the gospel applied to their lives and for non-Christians to hear about Christ and see what it looks like to follow Him. Afterwards we have a great time playing during gym/free time.
---
Life Groups
WEDNESDAY NIGHTS - 6:00pm – 7:30pm
LOCATION: STUDENT CENTER
Life Groups are small groups of students and adult leaders who discus their walk with God in their every-day life. The goal is to take scripture and apply it to the lives of students through discussion to help them grow in their faith in Christ.
Each night will include fellowship time, a small snack, and gender/grade separated small group time with leaders who will facilitate Bible-based discussions.
Contact Pastor Brian Van Doren for more information about the student ministry at 812-476-3450 or