COVID-19 Plan
May 28th Update: We are officially starting back our Kids' Life Group and Student Bible Study on Sunday, June 14th (this includes nursery classes). Students meet at 9:30 am in room 205. Kids meet in their respective life group classrooms at 9:30 or 11:00 am. We will not have the Missions Kids class (volunteers kids' class) for a little bit and the 3rd grade class at 9:30 am will be combined with another class temporarily. In addition we will have some safety precautions for the Kid's Ministry that we will be observing for a few weeks:
Check-in your kids as normal at the check-in stations. There will be volunteers checking temperatures. Any child with a temperature of 100.4 or greater will not be allowed to participate in Kids' Life Groups that day.
Kids will be dropped off to their rooms directly, we will not have the 203 drop off room.
We will not have kids' worship initially. We don't want to gather that large of a group of children to start. Kids will be dropped off and picked up from the same classroom.
We are so excited to re-open the kids and student ministry programming on Sunday morning. We have missed seeing your family! We hope you will join us on June 14th!
---
May 3rd Update: In accordance with state government recommendations we are excited to announce we will resume in-person worship services with some restrictions, on May 10th! We will continue to offer online worship at 9:30 am for those that prefer to stay home for a little while longer.
In-Person Worship Guidelines
We will be offering 3 worship services at 8, 9:30, & 11 am with a full worship team.
Individuals 65 and older or anyone with a medical condition is recommended to stay home and continue to experience worship online or by DVD.
We will be observing social distancing guidelines.
Worship chairs will be reconfigured to allow for space between families.
We will be utilizing volunteers to sanitize surfaces between services.
Face masks are strongly recommended for your entire family (not including children under 2, we will have some face masks available for those that don't have them).
We encourage friendly smiles and waves instead of hugs and handshakes.
There will be no greeting time and the offering will be collected at the door.
The coffee bar will not be open.
There will not be any children's or student activities during these services, including nursery.
Also, there will be no on-campus Life Groups on Sunday morning.
These guidelines are temporary! We will update you when they are changed. Please send any questions to
---
(March 17th) Here is our current plan for the next couple of weeks. This is subject to change:
We hope you and your family are doing well. As you probably know, many things have taken place throughout our country and the world in the past week. In many ways it may even feel like a different world…but it is not a different world. It is still God's world, and we know that it is a world that has been broken by the sin of mankind. The COVID-19 virus is but one very clear reminder of that. But God has given us hope in Christ! Through Jesus we can have life abundant, full, and everlasting! Jesus is still Savior and Lord, and He is still reigning.
A part of serving Christ is listening to our governing authorities and loving our neighbors: Romans 13:1-3, Matthew 22:36-40. We as a church want to do our best to do these things. For the foreseeable future we will only have online worship on Sundays at 9:30 am; in order to be in accordance with guidelines from the government and to love those who are the most vulnerable to the virus.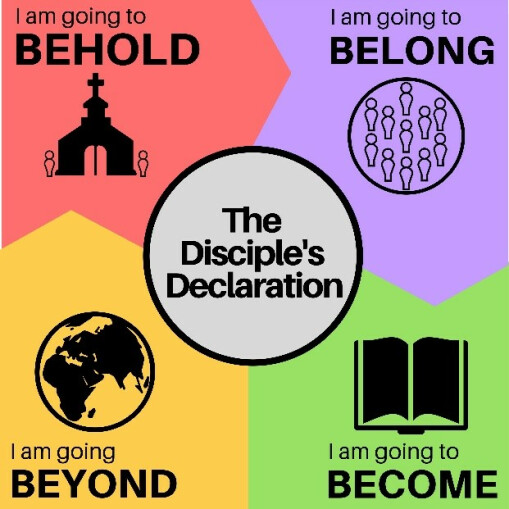 What you are getting ready to read is the new ministry plan for our church that we will use while we are in this very unique season of ministry. This plan is built upon the same four key pillars of our church ministry. We are going to continue to Behold, Belong, Become, and go Beyond ourselves: we are just going to go about it in a new way. As Shepherds of the Lord's church, we want to consistently Protect and Provide for our church family. These are the primary goals of your pastors through this unprecedented time. We will do this by meeting both physical and spiritual needs. This will be accomplished through the joint efforts of all of our elders in conjunction with our deacon body as well as volunteers from our church family. We will accomplish these tasks through the new ministry plan that you will find below. Please know that you are loved and cared for by your pastors, and that God is still on His throne!
In Christ,
Pastors Alan, Bryan, Nick and Brian

(Begins the week of 3/22)
Corporate Worship – We will continue to worship weekly and Behold our great God and His never changing Word. For the foreseeable future we will worship online at 9:30 am in the morning each Sunday. The service will be available online on our website (oakhillbc.org/live) as well as on our Oakhill Facebook page (facebook.com/ohbcevansville). For those who are not able to watch the service online, we are asking our deacons and other volunteers from our church family to deliver DVD/CDs to those who need this resource.
Worship Packets – These packets will be delivered through email to our members. Packets will be hand delivered to those members who are receiving the DVD/CDs. Worship packets will include a bulletin, lyrics, and a sermon outline.
Family Worship Plan – We are going to provide suggestions to help our families maximize the effectiveness of your family worship time.
Giving – Giving is an important part of our worship experience and we will all need to be faithful to continue to give during this time. We will encourage online giving for those watching the live stream or encourage our members to mail in their offering to the church. If you want to mail in your offering, we will provide you with an envelope already addressed and stamped.
(Begins the week of 3/29)
Adult Life Groups – During this time it is vitally important for our church family to stay connected to each other. We are encouraging our adult Life Groups to video chat once a week using either Facebook Messenger, Google Hangout, or Skype. We will be sending out our sermon-based study guide that will be used for the discussion time. This video chat will allow us to offer prayer for one another as well as discussion on the sermon. Each Life Group leader will be contacted by Pastor Nick to help ensure the smooth transition to this new way of doing Life Groups.
Student Life Groups – Students thrive on connection, and it is vital to keep students connected to their gospel-centered Life Groups. Therefore, Student Life Groups will meet digitally on Wednesday evenings through video chat at 6 p.m. Student Life Group leaders will be contacted by Pastor Brian to receive further instruction and discuss which app they will use. Students and parents will be receiving instruction through Facebook and email on how Students can access the video chat.
Student Gathering – Student Gathering will also meet digitally as one large video chat. This will take place on Sunday evenings beginning on Sunday, March 29th at 5 p.m. Students and parents will be receiving instruction through Facebook and email on how Students can access the video chat.
Kids Life Groups – It is very important for kids to stay in God's word, especially during this season of life. To help with that, Lifeway is providing access to an at-home version of Bible Studies for Life (this is the regular curriculum we use), through their digital platform (https://digitalpass.lifeway.com/ redemption code: VZMD4SSQ38). Families should use this to keep up with the weekly Bible lessons. In addition, Pastor Bryan will be making a short video each week to help parents prepare for the lesson.

(Begins the week of 3/22)
AWANA – AWANA will continue on in this transitional time under parent/guardian supervision only. Parents are encouraged to check the memory work of their kids and sign off on it so children can continue to progress on in their books.
Life Group Prayer Groups – In addition to your regular Life Group meetings, groups are encouraged to have a separate group chat once a week to check on each other and pray together. This could be the whole group together or you could meet in smaller groups (i.e. ladies or men's groups).
Midweek Video Bible Study and Prayer – We will continue to offer a Wednesday Bible study and prayer time at 12 p.m. beginning on March 25th. We will do this through Facebook on our public page (facebook.com/ohbcevansville). We would encourage you to comment with your prayer request.
(Begins the week of 3/22)
We want to use this time to serve the Lord, our fellow church members, and our neighbors. We can do these things in a few different ways.
Giving – One way to go beyond ourselves is to make sure that we are giving our offerings to the Lord to support our church family so we can continue to minister effectively. If you have a desire to give more to meet the many needs of people in our community, please consider giving through your local church. We are helping to meet many needs of those in our church and in our community. Faithful giving is vital for the ministerial health and ability of our church to meet the heightened demand for physical needs. Give at oakhillbc.org/give
Care for Others – We want to encourage our church family to truly care for others. We need to see this time as an opportunity to minister to people like never before.
Pray for others in your prayer time. Call others and pray with them over the phone.
Tell others about our online worship service so they can watch and be ministered to. They can watch at oakhillbc.org/live or at our public Facebook page (facebook.com/ohbcevansville).
Check on your neighbors – Take time to care for those who are vulnerable around you.
Our Deacons will be leading out in serving our church by delivering Worship Packets to those who need them. They will also be helping to meet the general physical and spiritual needs of our members.
Be ready to step up to care for others as it is necessary. If physical needs grow, we will be asking our church family to step up to meet needs for those in our church and outside our church as well.